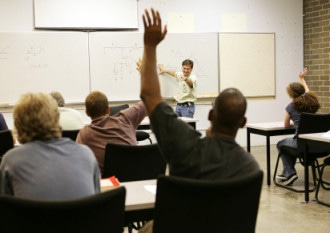 Our eClass series are all encompassing career tracks for either self study or moderator assisted learning. All these classes will enable the student to achieve professional certification in their respective fields of study. The classes are very hands-on and rely heavily on numerous interactive exercises. The foundational content always comes from recognized industry expert with a long experience in the field.
Information Technology
CompTIA
A+ Certification Exam 220-801 (hardware)
A+ Certification Exam 220-802 (software)
Network+ Certification Exam N10-005
Security+ Certification Exam SY0-301
Linux+ Certification Exams LX0-101 and LX0-102
Microsoft
Windows Server 2008 Active Directory, Configuring – Exam 70-640
Windows Server 2008 Applications Infrastructure, Configuring – Exam 70-643
Windows Server 2008, Server Administrator – Exam 70-646
Windows Server 2008, Enterprise Administrator – Exam 70-647
Installing and Configuring Windows Server 2012 – Exam 70-410 (in development)
EC Council
Certified Ethical Hacker – Exam 312-50
Automotive
The Modern Automotive Service Technician
This e-Class includes video for module introductions – voice over for all lesson introductions – in excess of 70 2D and 3D animations of automotive assemblies and systems – interactive exercises – lesson review quizzes and exercises.
Also available are 8 individual CertBlasters™ for ASE exam practice and preparation. These simulations of the ASE Exams include explanations to the questions as well as a references back to the e-Class for further study.

Class Duration: 380 hours
Certification: Automotive Service Excellence (ASE)
Click here to view the MAST trailer
Course outline:
Module 1— Foundations of Automotive Technology
Overview of Automotive Systems
Automotive Careers and Required Skills
Basic Automotive Hand Tools
Automotive Power Tools and Equipment
Auto Shop and Safety
Measurement and Math
Basic Electricity and Electronics
Locating and Using Service Information
Fasteners, Gaskets, Seals, and Sealants
Vehicle Maintenance, Fluid Service, and Recycling
Module 2— Automotive Engines
Fundamentals of Engine Operation
Classifying Engines
Engine Top End Construction
Engine Bottom End Construction
Engine Front End Construction
Engine Size and Performance Measurements
Cooling System Fundamentals
Cooling System Diagnosis, Service, and Repair
Lubrication System Fundamentals
Lubrication System Diagnosis, Service, and Repair
Engine Mechanical Problems
Engine Removal and Disassembly; Parts Cleaning
Engine Bottom End Service
Engine Top End Service
Engine Front End Service and Engine Installation
Module 3— Battery, Starting, and Charging Systems
Automotive Batteries
Battery Testing and Service
Starting System Fundamentals
Starting System Diagnosis and Repair
Charging System Fundamentals
Charging System Diagnosis and Repair
Module 4— Engine Performance and Computer Systems
Computer System Fundamentals
On-board Diagnostics and Scan Tools
Computer System Service
Fuel Tanks, Pumps, Lines, and Filters
Gasoline Injection Fundamentals
Gasoline Injection Diagnosis and Repair
Ignition System Fundamentals
Ignition System Problems, Testing and Repair
Emission Control System Fundamentals
Emission Control System Testing, Service and Repair
Exhaust Systems, Turbochargers, and Superchargers —Fundamentals, Diagnosis, and Repair
Engine Performance and Driveability
Advanced Diagnostics
Engine Tune-up
Module 5— Electrical Systems
Lights, Instrumentation, Wipers, and Horns
Sound Systems and Power Accessories
Restraint Systems
Restraint System Diagnosis and Repair
Security and Navigation Systems
Module 6— Drive Train and Axles
Clutch Fundamentals
Clutch Diagnosis and Repair
Manual Transmission Fundamentals
Manual Transmission Diagnosis and Repair
Automatic Transmission Fundamentals
Automatic Transmission Diagnosis and Service
Drive Shaft and Transfer Case Fundamentals
Drive Shaft and Transfer Case Diagnosis and Repair
Differential and Rear Drive Axle Fundamentals
Differential and Rear Axle Diagnosis and Repair
Transaxle and Front Drive Axle Fundamentals
Transaxle and Front Drive Axle Diagnosis and Repair
Module 7 — Suspension, Steering and Brakes
Tire, Wheel, and Wheel Bearing Fundamentals
Tire, Wheel, and Wheel Bearing Diagnosis and Repair
Suspension System Fundamentals
Suspension System Diagnosis and Repair
Steering System Fundamentals
Steering System Diagnosis and Repair
Wheel Alignment
Brake System Fundamentals
Brake System Diagnosis and Repair
Anti-Lock Brakes, Traction Control, and Stability Control
—Fundamentals and Service
Module 8 — Heating and Air Conditioning
Heating and Air Conditioning Fundamentals
Heating and Air Conditioning Diagnosis, Service, and Repair
Medical Coding & CCA Certification
This eClass prepares students for a career in the fast growing medical support services market. In addition to developing the professional skills necessary for accurate medical coding, the student will also have the ability to sit for the AHIMA and AAPC exams. We also offer a CertBlaster containing 300 practice questions for AHIMA's Certified Coding Associate (CCA) exam. With in excess of 300 hours of interactive online study this class requires no other prerequisite than a GED level educational background.
Click here to view the trailer
Certifications
CCA – Certified Coding Associate sponsored by the American Health Information Management Association (AHIMA)
Starts the students on the path to the Certified Professional Coder – CPC by the AmericanAcademy of Professional Coders (AAPC)
Certified Medical Claims Professional (CMCP)
Our Medical Billing Professional online class is the Authorized Curriculum for the Certified Medical Claims Professional (CMCP) exam.
Earning the ACCB's CMCP certification proves that a candidate has a broad base of knowledge and competency in medical reimbursement and billing including awareness of the insurance, billing and collection processes. This certification track is designed to demonstrate an entry-level competence typically for the new entrant into this field.
New billers who earn the CMCP will immediately demonstrate their formal knowledge of the billing process, even if they don't have much job experience. Earning a CMCP demonstrates a commitment to quality billing processes even for those who are new in the field. CMCP holders will also distinguish themselves from non-credentialed billers. Voluntary certification indicates compliance with the professional standards for practice in this medical support services specialty.
The CMCP should be viewed as the starting point for an individual entering a new career as a Medical Biller. Credentialing provides assurances to the public that certified individuals have met objective, predetermined qualifications for providing a quality service."