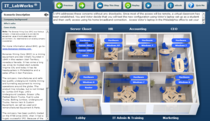 In addition to the tools necessary to today's pedagogy…
Hands-on labs and exercises
Step by step video instructions specific to each step of each exercise
Interactive quizzes
The digital "manual" for the foundational knowledge
Certification simulations per exam objective
Full certification exam simulations
Personalized study plans
Custom remediation plans
A full-featured LMS with granular reporting
…IT_LabWorks also offers:
CTEs – Critical Thinking Elements
ARPs – Analytical Review Points
IVR – Integrated Virtual Reality
The Analytical Review Points are a "stop-and-think" feature that makes the user stop and think about all he/she already has uncovered or can infer from the case study and how that should inform his/her actions
The Critical Thinking Elements makes the student part of the decision making process at various inflexion points of the case study based mission. By involving the students at these stages they are not only involved in the "how" to do but also the "what" to do and why.
Our Integrated Virtual Reality enables us to insert real elements into the virtual company such as its own website, its dedicated physical servern this enables us to offer the user a real life experience based on a company metaphor but also real life elements.